We included four positions in addition to the more obvious "Trend" and "Target" positions:
(1) an life energy transfer function to energize the Manifestation Program: each program has an individual transfer diagram with card included for free.
(2) a basic energy ("Basic Action") setting that boosts the trend-to-target connection with the optimal energy field of a general nature that fits best the purpose of the advanced life energy operation.
(3) a setting for a trend energy that is exerting an influence upon the environment of the target, which is facilitating a more rapid overall succes, and
(4) a setting for an alternative target. This alternative target can also be used as a "grounding function." As such it is designed to prevent repercussion to the operator in the event when the trend energy cannot reach the envisioned target for reason of interference, blockage, etc.
You find these extremely important settings only in our Manifestation Programs.
You can choose the background image that best matches the action and you have an option of one of the many sound frequencies, including low frequencies (brain wave frequencies), frequencies for physical activity, frequencies to boost mental powers, and naturally for weight control.
Free Laminated Transfer Diagram included, which is unique for every program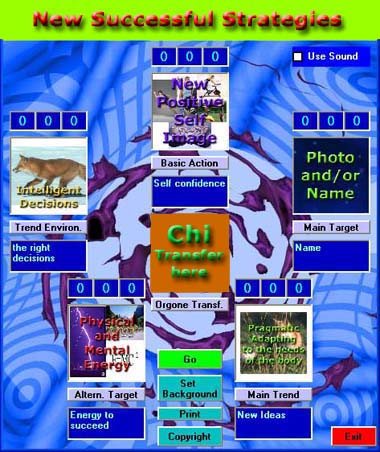 Warning! TheManifestation program™ is protected by internal settings (structural links) against any form of illegal use, use of unauthorized and/or bootlegged copy or any other program that contains ideas adapted from this program, whether purchased from and unauthorized dealer or received otherwise. It is certainly a bad idea and dangerous to misjudge the potentially grave consequences of such action!